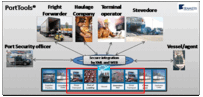 Seamless are the first one with a flexible range of security services designed to support efficient security management and logistics across terminals integrated to different gate control systems.
Seamless is a leading actor in the Norwegian market and has profound experience in maritime business. Seamless is a vendor of Port Administration Tools,Portwin and PortTools to 95% of Norwegian ports.
Seamless competence and systems are in addition used daily by over 800 service and logistics companies and 60 ISPS terminals.
PortTools® is vendor-independent and will work in any heterogeneous environment.
The core competence in the company's development department is the existence of 44 collective years of experience within port information systems.The most important asset for Seamless is people and the team of professionals which builds the organization. We believe that it is people who create wealth for the organization. People are the intellectual capital of a company and form the essence of who we are and what we do and what is our future.

Seamless is a vendor to one of the three largest Ship Services and Port Agents in the world - Wilhelmsen Maritime Services (WMS) – as well as one of the largest maritime car carriers in Europe - UECC.Seamless has its main office in the city of Kristiansand, itself one of the largest ports in Norway, and has a department office in the city of Oslo, which is the largest port in Norway.



Back